Get the basics about Medicare
Making the right decisions about your Medicare options is easier when you have all the facts.
Medicare is a federally managed health insurance program. It provides coverage for people aged 65 and older, younger individuals with disabilities, and people with end-stage renal disease (ESRD). Medicare beneficiaries can choose to add additional coverage, like a Medicare Advantage or Medicare Supplement (Medigap) plan, from a private insurance company.
Original Medicare
Hospital insurance
Part A
This is the hospital insurance part of Original Medicare. It covers:
Hospital stays
Skilled nursing care
Hospice
Home health visits
Medical insurance
Part B
This is the medical insurance part of Original Medicare. It covers:
Doctor visits
Outpatient services
Other medical expenses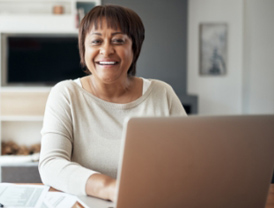 Navigating Medicare
Make an easy move to Medicare with the help of our free Welcome to Medicare guide.
Request guide
You can choose to add additional coverage provided by private insurance companies
Part C: Medicare Advantage plans
This is a health plan (for example, an HMO or PPO) that covers all your Part A and Part B benefits as well as preventive care. It may also include extras such as:
Prescription drug coverage
Vision and hearing
Gym memberships
Medigap (Medicare Supplement) plans
This is additional coverage that supplements Part A and Part B (Original Medicare) coverage.
A Medicare Supplement plan (also called a Medigap plan) helps with some or all the out-of-pocket costs you're left with after Original Medicare pays its share.
Part D: Drug coverage
This covers the generic and brand-name prescriptions that are listed on the health plan's drug formulary list. (Every plan has a different formulary list. You should review each plan's formulary before enrolling.)
When should you enroll?
You should enroll in Medicare when you first become eligible. For most people this is:
When they turn 65
When they retire (if they work past their 65th birthday) or
Before they turn 65 due to a disability
When you first become eligible for Medicare, you have a seven-month Initial Enrollment Period (IEP) in which to enroll in Part A and/or Part B. It starts three months before the month you become eligible, includes the month of your birthday, and ends three months after the month you became eligible. If you miss your IEP, there are other opportunities during the year when you can enroll.
If you're new to Medicare, and you enrolled during the Annual Enrollment Period (October 15 through December 7), you can disenroll from your original plan and enroll in a different Medicare Advantage plan (with or without Part D), or return to Original Medicare during the Medicare Advantage Open Enrollment Period (OEP). OEP runs from January 1 through March 31. If you are interested in enrolling in a new plan during the OEP, or have questions, please call us at 1-800-303-0656.
You must meet certain requirements to qualify for Medicare. If you're not sure you're eligible, you can refer to the Medicare Eligibility Calculator.
What Medicare doesn't cover
Medicare won't cover all of your costs. If you need certain services that Medicare doesn't cover, you'll have to pay for them yourself unless you have other insurance or you're in a Medicare health plan that covers those services. Even if Medicare covers a service or item, you will have to pay your deductible, coinsurance, and copayments.
Y0041_H5361_AH_M_112552_2024
Website last updated: 8/8/2023